Self-Service eliminates the Bottleneck in Your Reception
Introducing Smooth Self-Serviced
Check-In / Check-Out - Successwise
Give your guests extraordinary service through readily available 24/7 Self-Service and benefit from lower operational costs.
Imagine no more waiting time in your reception. By introducing CompuSoft self-service in your reception, your guests will experience an elegant and smooth arrival. Self-service has become popular and we are already familiar with self-service at air ports, bus-terminals, motels, and many other places. Give your guests easy access to check-in / check-out, to all kind of reservations, and to all kind of ticketing and give a good impression of your business.

CompuSoft Self-Service Terminal can be tailored to your business' needs, and is often used for check-in / check-out, sale of al kind of tickets and access cards, reservation and payment of all kind of sports, leisures, lanes, and appointments, buy internet access, reservation and payment of overnights at hotels / motels / cabins / pitches, reservation and payment of moorings at marinas, reservation and payment of parking spaces, search for local news and attractions ... and much more. All available 24/7 to your guests. Even after reception has closed and even though your reception staff is not present.

CompuSoft Self-Service Terminal can be configurated with following features :

Booking / Reservation module
Card payment
Cash payment
Issue of pin-codes
Issue of bar-codes
Issue of access cards
Issue of membership cards
Issue of traditional paper-tickets
Customer Info Center Module
International Language Module
Ticketing printer
Receipt printer
Integrated reader devices for chips, magnetic stripes, bar-codes
Can read bar-codes directly from smarthones for electronic ticketing.
Can be placed both in-door and out-door
Large Touchscreen
Each terminal is tailored to your designline in combination with our well tested operations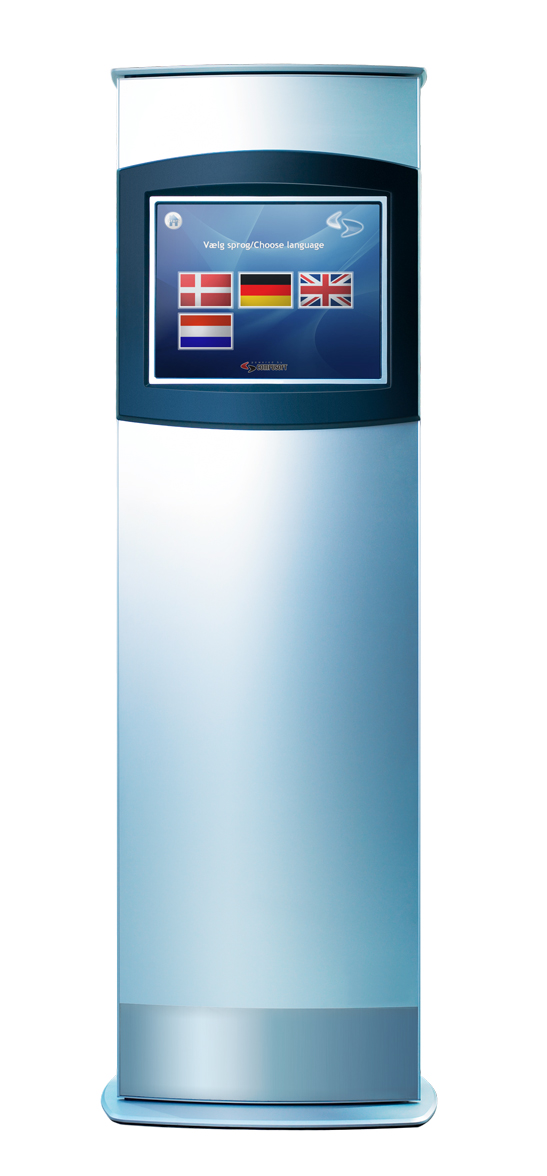 The unmanned reception gains footing - efficient and time-saving
CompuSoft Self-Service Terminal forms part of a total solution for your unmanned reception. The guest uses his personal credit-card as ID when checking-in and uses the same credit card as access key card for the main entrance and as access key card for his room or cabin. If the quest has bought breakfast and parking space too, his credit card also gives access to the breakfast restaurant and to the parking area. In the same way CompuSoft Self-Service Solution is able to manage your entire sport center or tourist attraction and provices electronic ticketing via your guests's smartphones or any other kind of tickets.
"
Often our self-service terminal is introduced as a supplement to the reception team in peak times as well as an extraordinar service outside of opening hours.
"
So easy that everyone can use it
The operation of the CompuSoft Self-Service Terminal is very easy. The operation flow is designed in co-operation with our clients. It is so easy to use that even children an elderly people easily can use the system.